What is Neurofeedback?
Neurofeedback, or Brain based Biofeedback, is a powerful tool which promotes optimal brain function.   The "feedback" in Neurofeedback continuously gives the brain millisecond-accurate mirroring of what it is doing, in a way that interrupts fixed patterns and guides the brain to find new, more successful patterns.  This process bypasses the person's conscious and rational mind, intervening without judgment with the activity of the brain.
View and download an ebook about NeurOptimal
Why Train At Home with Rae Tattenbaum?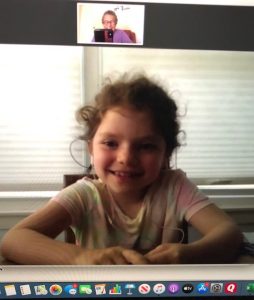 I am very passionate about the ability of this technology to impact change in your life as it has in mine.  I developed Lyme of the central nervous system resulting in impairment in driving, word finding and other functions which persisted following medical treatment.  After training with NeurOptimal Neurofeedback I experienced an amelioration of these problems in addition to:
Reduced reactivity in stressful situations
Improved focus
Better ability to multi-task
Improved insight and creativity
During this chaotic, stressful time, I would like to help you and your family experience moments of normalization and improve your ability to focus, stabilize your mood, and find relief from anxiety.
I have discovered that this technology is transformative and believe that it will help you make changes in your life.
Read what people have said about working with Rae
Do I need to have a technical background to train at home?
Certainly not!  You will clip 5 sensors to your ears and scalp, turn on the computer, open the program, and press Start.
The system consists of a laptop computer, an encoder/amplifier and some cables and headphones, resource materials and step by step guidance through the procedure.
At any time we will be happy to assist you via Skype, Facetime, or a phone call.
Here are some video clips which further describe the process of training your brain with NeurOptimal Neurofeedback.
Click here to open the videos in a separate browser tab
And then I'm on my own?
Only if you want to be.  We will check in on you from time to time, but if you need our help, just call.  You will also have access to a NeurOptimal website should you need additional information, checklists and tracking documents, or more hands on technical support than we can provide from a distance. 
How much does it cost to train at home?
There are 2 plans to choose from, depending on whether you will be training only yourself or you would like to train other members of the family as well.  In either case you need only commit to a 1 month rental.
Individual Plan

If you plan to train yourself only, the monthly cost is $660 which includes 10 sessions, sufficient for training 2-3 times per week.  Additional sessions can be purchased for $25 per session. 

Family Plan

The family plan costs $1060 per month and includes 18 sessions  Again, additional sessions can be purchased for $25 per session.

Coaching with Neurofeedback

Coaching is a separate service with its own fees, which can be done along with Neurofeedback. Click here for more information
Pay in advance for rental by PayPal or Venmo or by a check to Rae Tattenbaum.
There is no compensation for unused sessions.
In addition to the monthly cost, you will also be responsible for Fed Ex or UPS shipping each way,  should shipping be necessary. 
How long will it take to see some results?
NeurOptimal constantly feeds back information to the brain, but each brain is different.  Most people report that they feel something happening within the first 3 sessions.  The changes are often subtle, which is why it is helpful to use the checklists and tracking documents suggested.
If at the end of 4 weeks you wish to extend your contract for another month, that can usually be arranged, depending on availability of the rental units. 
If you have more questions or would like to Start, please call our office at 860-561-5222 or, or email us at info@inner-act.com
To pursue the Train your Brain at Home program, please complete the questionnaire found at this link.
Rae Tattenbaum will call you for a complimentary 30 minute consultation to discuss your responses and answer your questions regarding the Neurofeedback process.