In addition to Neurofeedback, the Core Tools of Inner Act's Program include:
The Relaxation Process
Open Focus
Inner Journey Work
Mental Imagery
One-on-One Coaching
People who have benefited from the Inner Act program include:
Retirees wishing to live a more relaxed and fulfilling life
Anyone wishing to gain more balance and mastery over their lives
Getting Started with Rae Tattenbaum
Every client that comes to Inner Act receives a program plan that is customized to his or her specific needs and goals. On our first discussion, Rae Tattenbaum will interview you to learn about your needs, concerns and goals. Prior assessments and diagnoses are considered at this time. We then use a decision tree to identify our approach. 
Renowned Opera Singer John Cheek as General Boum in The Grand Duchess
The core modalities of Inner Act's Program:
The Relaxation Process teaches you to enter and hold at will a relaxed state of readiness.
Open Focus® teaches flexibility of attention, reinforces your ability to enter a state of readiness while inhibiting self judgment and inner dialogue. Click here to hear an excerpt of Open Focus.
Neurofeedback Training teaches you to move to a more flexible brain and to deepen your ability for balance, whether for emotional stability or performance demands.
Inner Journey Work is about exploring inner recordings and limitations in your current way of experiencing the world. It  teaches you how to transform negative thinking, inner commentary and failures into success using cognitive and experiential techniques.
Mental Imagery  is crafting images that help you move yourself into a more flexible, present and high performance state, rewriting your mind's vision of your challenges and providing yourself with cues to maintain changes.  
One-on-One Coaching – Each person's challenges are different. Once you have the basics of the program in place, we work one-on-one to optimize and solidify your long-term success. The coaching helps you track your pre-, during- and post-performance use of the program's tools. Coaching helps you remain consistently present in your life and relationships. 
High Achieving Students and Scholars
Studies have shown that mental preparation and self-confidence are important to academic performance for factors such as skill, creativity, and reduction of anxiety.
The Inner Act program will help you improve your "inner game" – the relationship between your inner state and your performance ability – and to achieve better performance in academics and testing.
Some of the benefits you receive through Inner Act's Optimal Performance training include:
Significantly higher SAT and tests scores
Increased overall academic performance
The ability to learn more, learn faster and retain what is learned
Greater calmness during study and more effective study habits
Better sleep habits and sounder sleep
"I had taken the SATs previously before I met you and found that it was very difficult to concentrate for such an extended period of time. After working with you, I took them one last time and found that I was able to concentrate better, had less anxiety and frustrations, and much more confidence going in and walking out of the test center. My scores even went up! I was much more attentive in my class lectures and much more involved with class discussions. Being a high school senior, this helped me get into college. My grades are the highest they have ever been. I finally made the high honor roll!
"The best part is that I came to you to prepare for my college auditions and I am CONVINCED that because of my work with you, I was accepted into my top two schools. Both of them were fairly difficult academically as well as artistically to get into. Getting in was such an amazing relief and a wonderful feeling."
—Chris
Learn more about Chris's story in a video here
Gifted Children and Teens
Inner Act's training for gifted, intuitive children and teens focuses on helping them to become even more comfortable and competent with their talents. At Inner Act, we have worked with many gifted children and the results are always a child with greater flexibility, more confidence, and more emotional resilience, and to respond positively to each challenge.
Gifted children and teens typically gain these benefits:
Ability to move from one task to the next
Flexibility to move from complete absorption in one area to a wider focus
Better management of emotional tone
Increased awareness of themselves and the people around them
Ability to change state from high achievement to relaxation
Ability to create verbal, visual and emotional scripts and internal movies of success
Highly intuitive children and teens are helped to establish boundaries, discrimination and better attentional control
Elite, Professional and Young Athletes
Much has been written about the "inner game" or "mental game" – the relationship between your inner state and your performance ability. Sports performance psychology and sports psychotherapy are becoming an integral part of professional sports. Studies have shown that mental preparation and self-confidence are as important to performance as the "external" training for skill and endurance.
However, where does the athlete learn this mental toughness? Experts agree the new frontier in sports performance is in training the mental aspects of the game through technology. As Tim Keown of ESPN states, "Mental speed is not only preferable in sports, it's essential. Physical gifts aren't enough."
The Inner Act Optimal Performance program eliminates the mental and neurological barriers to performance by improving your ability to regulate your attention, screen out distraction, and enhance your natural abilities. This approach has been shown to be highly effective in golf, soccer, tennis, basketball, and baseball, and from school athletics to professional sports.
Athletes who take the Optimal Performance Training achieve these results:
Improved ability to manage distractions

Faster ability to overcome losses
Reduction of internal mental chatter
More focused ability to learn and practice a skill
More consistent routines and rituals
More consistent mood management
"Many athletes have been encouraged to visualize and mentally rehearse. At Inner Act, we have found that this technique is not always done correctly – the visualization becomes mental rumination, which is not helpful.
"Working with Rae Tattenbaum to develop a mental rehearsal process will allow you to be present in the moment. By combining this with home training, you learn to tell your body how to move muscles and breathe and to be strong, and by doing this you create a mental blueprint that impacts and optimizes your performance." — Rae Tattenbaum
Click to view a Wall Street Journal article "Getting Your Head in the Game":
Young & Professional Performers
In 1996, Rae Tattenbaum, the founder and president of Inner Act, became the pioneering and leading practitioner to use information technology to train singers. She recognized that Neurofeedback enabled performing artists to be completely present during lessons, rehearsals and performance.
Since then, Rae has gone on to train performers of all types, ages, and levels of accomplishment for performance and audition. Among them are Metropolitan Opera singers, middle and high school students, Broadway and developing singers, musicians, actors, dancers, and emerging and professional artists.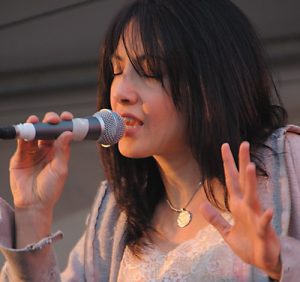 Our research at the 2000 season of Intermezzo, an opera program for working singers, indicated that vocalists experienced a clear change in their voice from Inner Act training. The spectral analysis of selected participants showed that the harmonics were clearer and more balanced, which would indicate a more focused and controlled voice. Singers gain increased range and vocal power and achieved rounder, purer tones and a stronger stage presence. Inner Act allows singers to discover the ability to enter a non-critical state so that their performance is alive and emotionally rich.
As a vocalist, you can expect these benefits:
Improved vocal clarity, resonance and endurance
Ease in vocal production
Remain fully present and attentive throughout your performance
More of a positive response to criticism and suggestion
More able to make corrections and technique changes
A positive transformation in your timbre
The ability to focus on your singing without losing the musicality or emotional connection
Inner Act performance training teaches you to let your music become a vehicle for telling a story. We help you address performance anxiety, career issues, improvisation issues and physical tension.
The outcome is that you gain greater mastery of technique, musical expression and more confidence before an audience. The program has been used by concert violinists, guitarist, cellists, pianists, trumpet players and saxophonists to improve performance.
By participating in this program you will:
Be more attentive during performance
Maintain attention and focus during non-playing intervals
Maintain a positive response to criticism and suggestion
Make corrections and technique changes easily
Be able to consistently manage your physiology, i.e. breathing and muscle tension
Be able to attend to the conductor, colleagues, and your own playing without losing the musicality or emotional connection to the selection
The Inner Act system enables talented actors and dancers to become even more comfortable and facile with their abilities. You learn to focus on the "inner game" – the relationship between your inner state and level of performance.
You will gain mental preparation skills and increased self-confidence, both of which are proven to be as important to performance as external training for skill, endurance, creativity, and decreased performance anxiety.
As an actor or dancer, you will achieve:
Increased attentiveness in class, rehearsals and performance
Better responsiveness to criticism
Greater ability to make corrections and respond to directors or choreographers and casting personnel's feedback and on-the-spot directions
A physically more relaxed, powerful and flexible state
Reduced trauma to the body
The ability to maintain attention and focus during non-performing intervals
The capacity to remain fully present throughout the performance
The ability to attend to the music, colleagues and your own performance without losing emotional connection to the piece
Visual Artists and Writers
Through the Inner Act program, artists and writers gain the freedom to allow the creative process to flow. The program will help you overcome creative blocks, negative self-talk, anxiety and tension. As a result, you will acquire greater mastery of technique, creative expression and self-confidence.
Artists and Writers gain these benefits:
An aptitude for creating and holding the desired imagery or story in your mind's eye
The capacity to maintain attention and focus for extended periods of time
An aptitude for quieting the internal critic and being fully present in the moment
A more consistent, balanced flow of the creative process
Reduced anxiety and stress
The ability to focus on technical execution without losing artistic vision
Business Professionals
The "game" of business is very similar to that of professional athletics in terms of the level of preparation required, the level of stress experienced, and the importance of mastering your mental state. As with professional athletics, resilience and adaptability are critical to the "business athlete".
In addition, many business people find that the training allows them to maintain a clear, focused state which enhances their ability to perceive and act on ideas. The program also dramatically improves communication, presentation, negotiation, and strategic thinking skills.
The Inner Act approach provides business people with these benefits:
Heightened focus and attention
Reduced anxiety and the ability to "keep cool"
Improved skills acquisition and retention
Increased analytical and creative thinking skills
Strengthened communication skills
Improved Memory